Thu, 28 January 2010
Bonus Set - Equinox Festival 2009 (Labyrinth / Pangea)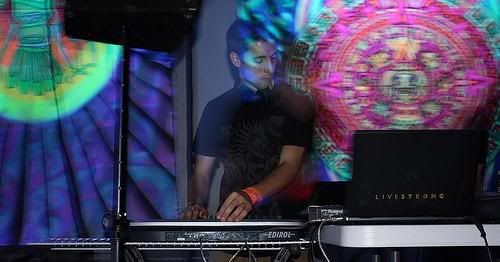 This weeks show is a superb dark atmospheric set from Labyrinth, one part of the psychedelic collective known as Pangea Productions. Labyrinth formed Pagnea with co-founder Kameleon in 2000. As well as producing music ranging from psychedelic to techno and tech house, Pagnea have played out at events across North America and Europe. In 2007 they formed their own label Pure Perception Records.
Watch out for a future set from Kameleon :)
Track listing:
dark melodic psy trance
Touch Samadhi Equinox Festival - 2009
01. Aes Dana - Signs
02. Atriohm - Close to Nowhere
03. Hoodwink - Digital Rip
04. Ajja - Lingus Khan
05. Atriohm - Hybrid Synthesis
06. Becoming.Intense - Near Extinction
07. Scorb - Tundra
08. Dissociactive - Meteor Rain
09. Tranzlation - Shaman's Cry
10. Norwindia - Raggsokk
11. Overdream - Extraterrestrial Travellers
12. Aes Dana - Signs
Labyrinth's bio:
"Greetings, My name is Elliott Vaughn, dj/producer/bassist representing Pangea Productions / Pure Perception Records, The Malah. I have been a musician most of my life playing the piano and bass guitar at a young age. In the summer of 1999 I was blown away by my first outdoor psy trance experience in the appalachian mountains. Ever since, I have been djing and producing psychedelic, progressive, tribal, and minimal sounds. Giving much passion and energy into each mix, telling a story and using the power of music to lift the mind, body, and spirit. I feel very blessed to have the oportunity to create and perfrom music that I love. Through music and art we can lift each other up and help each other realise that we are all connected and live in harmony with God, our Father, the Great Spirit, the Universal Consciousness. Along with Kameleon, we formed the collective Pangea Productions in 2000, and our record label Pure Perception Records in 2007. We have been blessed to work with some of our favorite producers from around the world releasing various froms of underground dance music. We also create tribal psy progressive under the name 'Bioluminescense', And bouncy techno/tech house under the name 'Life N Limbo'. We have had the opportunity to play at many events across North America in Atlanta, Montreal, NYC, California, Asheville as well as playing the Arcadia Festival 2008 in France. We have also held a residency on internet radio site DI.fm for the progressive channel and the psy/goa channel. Be on the look out for future mixes, releases, and events. "A Labyrinth has only one path, which leads the seeker to the center and back out again." peace, light, praise, love .."
http://www.pangeaproductions.org/
Comments[0]
---
Adding comments is not available at this time.