Fri, 19 February 2010
Back To Goa - Twisted Kala (Goa / France)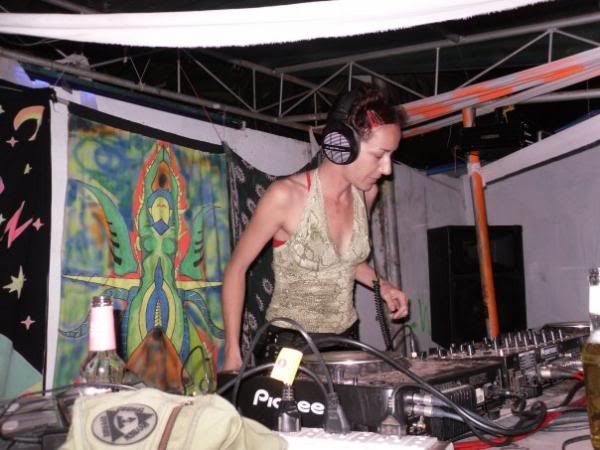 Another dark and twisted guest mix this month from French born psychedelic DJ 'Twisted Kala'. Kala is currently based in Goa India and plays in psychedelic parties across the Indian subcontinent, as well as in her native country of France.
Kala headlined at the pinnacle of the Goa party season this year, playing Shiva Valley on new years eve and blew away pretty much everyone in attendence, myself included :) The old Goa spirit was definately awakened that night!
Please enjoy her guest mix, produced exclusively for the show:
Track list:
1-MENTAL ABSTRACTION and THE SPACEBAR 'the vise'.
2-SYNTAX ERROR 'the grapes of wrath'.
3-INNERSOUND 'jetlag'.
4-FLIPKNOT 'tritone'.
5-BRAIN WAVES 'sprectal paranoia'.
6-KINDZADZA 'sinim bomber'.
7-PARANOIZE 'in the lab'.
8-TWISTED KALA 'new generation'.
9-CLAW 'fantaze'.
10-STRANGERS 'storm troopers'.
11-PSYSHARK vs SILENT HORROR 'stares'.
12-JELLY vs ORESTIS 'el nino'.
13- SILENT HORROR 'distorted'.
14-ZIK 'qe pedo qe maniaco'.
15-POLYPHONIA 'distorted reality'.
Artist's own bio:
'TWISTED KALA is karine petiau, born in france, live today in goa, india. Teneegers already she started to be addict of music and dancefloor.....She started to listen psycho and punk sounds, did some spiral tribes parties experiences..... She learned 10 years piano and classical theory at conservatory of Montpellier in France. She loves feel the waves sounds into her body..... Dancing, listening music....is active meditation...there you find awareness of your connexion with the univers, expande mind with better feeling and understanding of cosmic energy....cosmic flow..... Be a circle, which has no centre, but a circumference, without any limits!!!!! Then after some strongs experiences on transe music she decides to start her own composition....she worked 1 year on frutty loops, 4 years on cubase. Today she is dijing in India and in France.....Starts to play in her set some of hers own tracks........ She has a deep twisted night style..... For booking contact: pixiesvibes@hotmail.com'
http://www.myspace.com/kalatwisted
Comments[0]
---