Fri, 29 October 2010
Back To Goa - Dark El Kante (Indigenous SOS special)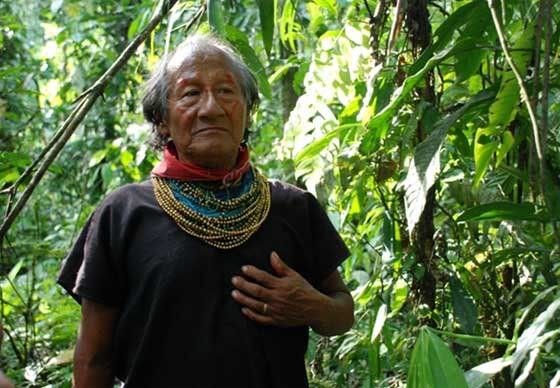 This month, a special mix and a special reqest for the listeners of Back To Goa. Presenting his third mix for the show, Dark El Kante (Jorge Bazán) brings you a fresh and funky mix of freeform Suomisaundi psy-trance.
But this month we also ask your support for Dark El Kante's benefit project, Indigenous-sos. Launching a 3xCD release, Jorge's new label 'Random records' presents this non-profit making benefit project created by artists who've donated their tracks for free to help some of the indigenous people of Colombia, the Cofanes.
Please visist the site below and if you can afford to, buy this fantastic CD in the knowledge that all profit is going towards securing land for Cofanes, who's ancestral homelands have been polluted by pesticides and the drilling of international oil companies.
Please find more details on the project here:
www.indigenous-sos.com
www.facebook.com/indigenous.sos
Thanks for your support and solidarity :)
Meanwhile here's the track listing for the mix:
1-Talpa - Little pink elephants
2-Pinperknuckle - Caliente dude triple A
3-Freeform Human - Bonus level
4-Self Existence - Monkey phonics
5-Texas Faggott - Polina in the fog
6-Sienis - Tinklebell of the Untinkable
7-Oxya - Fake square
8-Crazy Ducks - Ducks on Mars
9-Sattle Battle - 2 step chase (Live @ Halu Club)
10-Neuron Compost - Meat nectar
11-Neuron Compost - Sonic sodomy (Sattel Battle mix)
12-Decibel - Mirror ball suit
13-Igor Swamp - Uuttamatookoukkuu
14-Special Blend - Probability vs Possibility
15-Crazy Ducks - Snipik
16-Crazy Ducks - King Quaquack
17-Sattel Battle - Simplicity (part 3)
18-Talpa - Moronic Evil rmx
peace and pos vibes, Aurora
Comments[0]
---
Sat, 9 October 2010
Back To Goa - Aurora (Eden fest live)
This month Aurora presents a special 2 hour chill-out set he performed (and recorded live) in the Vishnu chill tent at this years Eden festival. A special shout goes out to the Edinburgh based psy-trance collectives Cosmic and Planet Monkey who organised the 3 day chill-out spectacle in the beautiful setting of the Raehills meadows in Dumfries.
Track list:
01. Arambol (Original mix) - Astropilot
02. Alfa Flyer Universe (Original mix)
03. Spiral clouds (Kumharas edit) - Chronos
04. Naga (Tribal Dub remix) - Solace, Makyo
05. z-51 (Original mix) - Zero Cult
06. Noir - Ultimax
07. Roll Your Own - Tripswitch
08. River of Air (Original mix) - Gus Till
09. Tengri (Original mix) - Atriohm
10. Sansara (Original mix) - Astropilot
11. Pearcushion (Original mix) - Ajja
12. Skiy Interface featuring Kadasarva - Tentura
13. Symetric Lifes (Live version) - H.U.V.A Network
14. Altered State (Kumharas 6 Full Version) - Asura
15. Normalised (Original mix) - Logic Bomb
16. Once Upon A Time (Zero Cult Remix) - Side Liner
17. Supersede (Original mix) - Carbon Based Lifeforms
18. Celestial Tendencies (Original mix) - Asura
19. Lost Sequence (Original mix) - Distant System
20. Pure Pure (Original mix) - Tripteaser
21. Transit (Original mix) - Aes Dana
Artist bio:
Aurora has been involved in the psy trance scene since the late ninties when he first travelled to India and experienced some of the earliest Goa trance parties in the costal villages of Vagator and Anjuna.
As well as playing at parties in India and his native Scotland, Aurora has founded Headroom, a psy-trance night in the far north of Scotland, and more recently Ohm, a psy-chill and psybient night launching this December in Inverness. In July of 2008 he created Back To Goa podcast; starting with a very small following of listeners the show has now blossomed and receives over 8000 downloads per month spanning some 27 episodes. This is thanks to the kindness and support of the psytrance community of DJs and producers (both established and new) who submit their mixes to the show each month.
Thanks everyone and peace :)
Comments[0]
---