Fri, 26 February 2010
Back To Goa - 'Goa, the new word order' (Dark El Kante)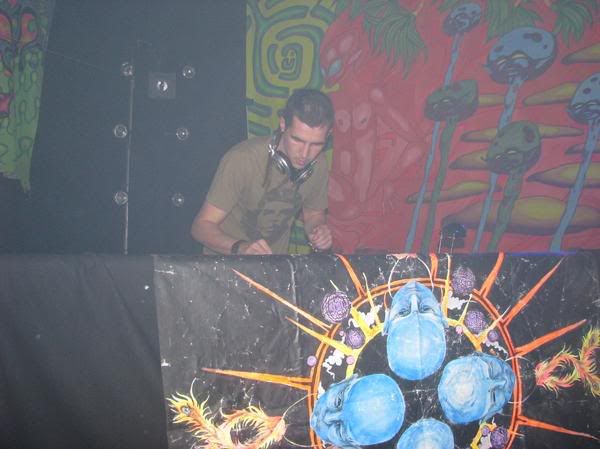 This months sees the return of Dark El Kante to the show with a superb nu skool Goa trance mix. Firmly in the future but looking respectfully back at the distant past, this mix brings back that unique melodic Goa vibe that defined the psychedelic party scene so many years ago.
Dark El Kants is native from Spain but holds residency at two psy nights in Scotland as well as playing in events across the UK and beyond. In addition to various dates in Edinburgh, Dark El Kante will also be playing in next months Headroom in Inverness!
Playlist:
1. ANTARES - Prophecy (PHOTOTROPIC RECORDS)
2. FILTERIA - Eyeless Observatory (SUNTRIP RECORDS)
3. GOASIA - Space Travellers (SUNTRIP RECORDS)
4. GOASIA - Parasomnia (PHOTOTROPIC RECORDS)
5. MERR0W - Born Underwater (SUNTRIP RECORDS)
6. FILTERIA - The Big Blue (SUNTRIP RECORDS)
7. FILTERIA - Ultimator / Ultimated rmx / (KAGDILIA RECORDS)
8. ARTIFACT303 - Energy Waves / Positive Mix / (SUNTRIP RECORDS)
9. JIKOOHA - Bay hall magic (PANORAMA RECORDS)
10. KA-SOL - Skreno (SUNTRIP RECORDS)
11. AEROSIS - Anasazi (PHOTOTROPIC RECORDS)
12. GOASIA - Love and Piece (SUNTRIP RECORDS)
13. FILTERIA - Wormhole (SUNTRIP RECORDS)
14. RA - Gateway Eight (SUNTRIP RECORDS)
15. ASTREVETA - Graviton (PHOTOTROPIC RECORDS)
16. PANDEMONIUM - Flying Cookie (PHOTOTROPIC RECORDS)
17. MERR0W - Poseidon Lullaby (SUNTRIP RECORDS)
18. ARMAGEDDANCE - Temple of Maya (PHOTOTROPIC RECORDS)
19. AFGIN - Journey through acid (SUNTRIP RECORDS)
Artist Bio:
Dark el kante is a game of words that means "to go off key or to act of discordant way" and is the dj name of Jorge Bazán, based in Scotland but native from Spain. It was at the end of the 90's when he discovered psy-trance as music and as a way of life, loving nature, traveling and attending various festivals around the world like in Morocco, Bolivia, Italy , Hungary...or playing in diferent events around the UK, Brazil, Spain, Slovakia, Costa Rica, Colombia, Germany,Latvia, Ireland and Austria or doing on-line dj sets in different internet radio stations like ://www.radioszkocja.pl/ (Poland) and www.radiondadurto.org/ (Italy) . Over the past 4 years he is an active participant in the psy scene of Scotland where he currently has residence, being events promoter and DJing at different clubs of Edinburgh as Studio 24, Ego club, The Caves and The Bongo club where he normally organise 2 monthly nights with the Random crew(www.myspace.com/psyrandom) and other with Timelord and Planet Monkey called Cosmic (myspace.com/cosmic_psy), trying to promote the underground scene in the UK and escape of the more commercial sounds. Also has participated in some free parties and raves over the UK, cooperating with different sound systems. His style as psychedelic dj sounds ranging from night twisted full-on psy and forest music to other styles as suomi trance.
http://www.myspace.com/darkelkante
http://www.myspace.com/adamarecords
Comments[2]
---
Adding comments is not available at this time.